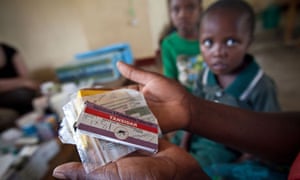 Drugs to treat malaria are a necessity in towns like Kampala. Uganda has about 478 cases per 1,000 individuals per year, one of the highest levels in the world. Although malaria is treatable with right drugs known as artemisinin-based combination therapy, those drugs are hard to come by. In many countries, malaria drug are officially free at public hospitals. However, they are chronically out of stock. In private pharmacies and clinics, these drugs are very expensive.
Living Goods, a social enterprise headquartered in San Francisco, has built a network of door-to-door saleswomen in Uganda. The over 1,000 agents, named community health promoters, vend genuine ACTs at a deep discount to the retail price. According to a report by researchers from Harvard's Kennedy School of Government, the arrival of Living Goods agents caused the rate of fake drugs in local shops to reduce by half and prices dropped by 20 percent. Importantly, the research revealed that presence of Living Goods distributors in a village increased ACT use by children believed to be suffering from malaria by almost 40 percent.
Living Goods is not a charity, but a non-profit. It seeks to build a viable distribution channel for "pro-poor" product. It sets prices at 20 percent–40 percent below local retailers.
References
https://www.theguardian.com/social-enterprise-network/2013/may/03/social-enterprise-leading-fight-malaria